diyHue brings together multiple Smarthome Solutions into one Ecosystem.
Mix and Match:
Connecting to your favourite Home Automation like Homeassistant or any other Software that supports the Official Protocoll.
Multiple Vendors supported!
Providing a environment for the DIY Enthusiast and users that like the convenience of ready to use Products.
How it works?
The Python Script Emulates a System that other devices can connect to.
Manage your Lights with diyHue as the Heart and Soul in the middle.
The diyHue Map shows the basic principle of devices and how they are connected.
Commonly it is used with ESP8266 Microcontrollers, flashed with the provided Firmware in the Github Repo, making a affordable diyHue Light yourself.
With additional Hardware such as the Raspbee or Conbee Dongle, you can also monitor and control off the shelf Hardware such as 3rd Party Sensors and Lights.
To Name just a few:
– ZigBee lights (using Raspbee module, original Hue Bridge or IKEA Tradfri  Gateway)
– Mi-Light bulbs (using MiLight Hub),
– Neopixel strips (WS2812B and SK6812) and
– any cheap ESP8266 based bulb by replacing the firmware with a custom one.
Written in Python, making it suitable to  run on all small devices such as the RaspberryPi.
Arduino sketches are provided for the Hue Dimmer Switch, Hue Tap Switch and Hue Motion Sensor.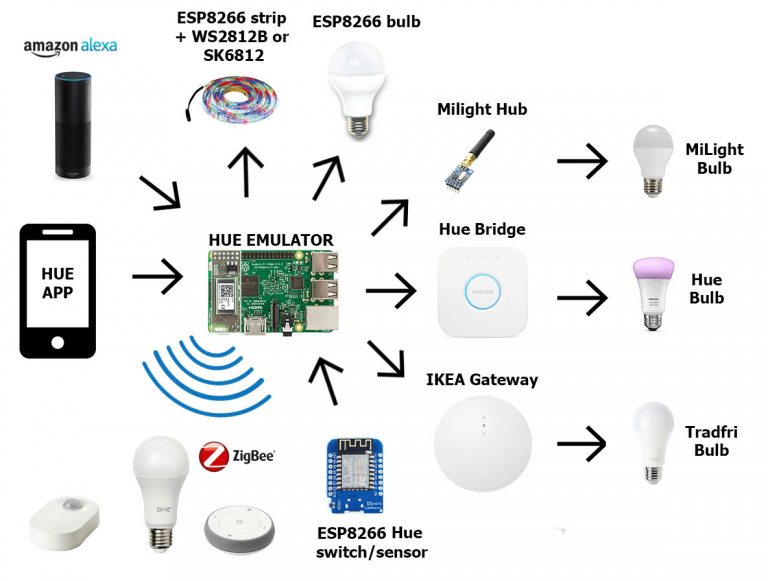 diyHue - Map
Overview of diyHue Compatibility
Get Diyhue - Hue Emulator
Install on a dedicated Machine - e.g. Raspberry Pi
Install and run in a Docker Container
Flash your ESP8266 with the Firmware provided, add some LEDs and you have your own smart Light ready to brighten your Home.
Incl. Entertainment Function!

Use the Online Flash Tool
(use Chrome or Edge Browser)
Docs and Manuals for Installation and Support
Problem? Find Help in our Discourse Forum
We have a Community Slack Group